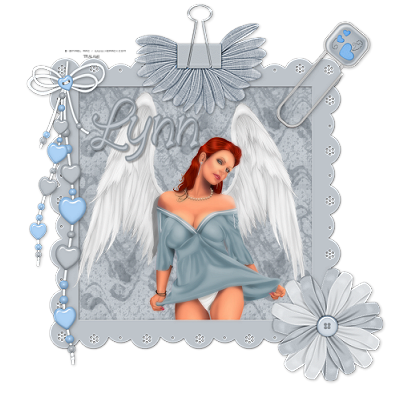 You will the following things for completing this tutorial.
Scrap Kit of choice or the one from
Lynn
. It's
Thank You Lynn for letting Me use Your
kits in My tutorials.
Tube of choice. I am using the awesome work
of Ismael Rac and You can find his tubes now
on
AMI
. You can not use any of His work
without the proper license.
Font of choice.
Open Your tube in psp and minimize it. From the kit choose
on of the frames and Shift + D to duplicate it. Delete
the original one.
With Your magic wand click inside the frame and go to
layers new raster layer. Selections Modify
expand by 10 or 12.
Find a paper You like from the kit and go to edit copy and edit
paste into selection. Selections select none. Now slide this
layer under the frame layer.
Let's give Our frame a drop shadow by going to Effects 3D
Effects Drop shadow and I used vertical and horizontal 2
opacity 30 blur 10.00 color black.
Ok now I had to do the tube and frame differently as the
frame was a full sized one so I went to layers merge visible
and then went to image resize by 60 percent all layers
unchecked.
Now on Your tube go to edit copy edit paste as a new layer and
place her the way You like her. Duplicate this layer and
on the top layer go to Adjust Blur Gaussian Blur 3.00 and click
ok. Now place opacity on this layer to about 70.
Now begin adding any of the elements You like. You may
need to resize them as I did the frame above. Add the same
drop shadows as above. Add Your name and the same
drop shadow and then a copyright if You need one and
save as png and Your all done.